U jednom je čovek drvetu sličan
– bez korena je tek balvan običan,
– bez korena je suva sirovina.
Zar nije to dokaz gde je suština?
Zavirimo u riznicu bogatu
koja baštinom kulturnom se zove
i saslušajmo u jednome satu
oživljene nam predaka glasove.
***
At the core of the Serbian nation,
somewhere way back into the centuries,
the folk songs' long lasting vibration
became genuine cultural treasuries.
They are authentically beautiful,
speak directly from the heart.
They are intimate, warm and graceful,
shortly: a perfect piece of art.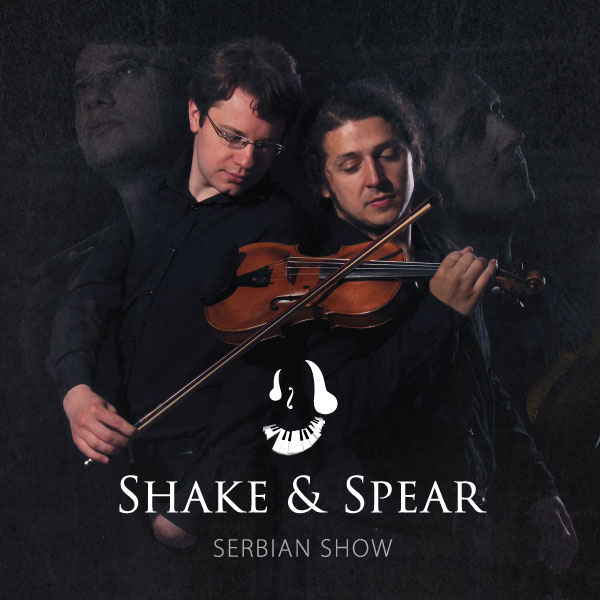 Shake i Spear su akademski muzičari i veliki zaljubljenici u muzičko nasleđe svoje zemlje, koji su udružili svoje snage, talente i veštine da bi publiku vodili kroz svoje koncertne programe u "šekspirovskom" maniru, najavljujući numere dijalozima u stihovima i rimama, neprekidno recitujući i glumeći na engleskom ili srpskom jeziku. Oni svojim jedinstvenim programom srpske muzike na prijemčiv i upečatljiv način predstavljaju istoriju Srbije i Balkana, približavaju kontekst i sadržaj pesama koje izvode, a svoju publiku uspevaju da zamisle, iznenade, rastuže, nasmeju… Dvojica muzičara bogatu tradiciju svojih korena neguju kroz stilizovane forme na svojim instrumentima (violina i klavir), a posebno su ponosni na činjenicu da su neki istaknuti kompozitori stvorili dela koja su posvetili njihovom sastavu.
***
Shake, a violinist and Spear, a pianist are academic musicians and devotees of music inheritance of their country. They have formed a duo, with desire to nourish this rich tradition through stylized forms on their own instruments. With the intention to present the music of their roots to the people from other cultures in a very special way, they've created this unique music performance. They lead their audience through the show in a "Shakespearean" manner, announcing the popular melodies of Serbian music they perform with verses and rhymes.